Morning everyone!
Its Tipper Week!!! Yep, our whole team has some tips and fabulous creations to share with you!

Thanks to everyone who took part in last weeks Criss Cross it challenge - it was great seeing such variations on the theme!!
This weeks challenge is:
As long as there is something on your creation that starts with a 'T' - then you can enter it into a challenge....eg, Thank you sentiment, tied bow, Tinkerbell, Teacher,
Triple - could be three of something
,
Turquoise,

Tearing/Torn Paper Technique,

Twisted (ribbon, wire, paper)
....anything at all!!
This weeks sponsors are:
Simon Says Stamp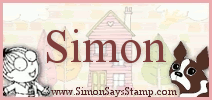 Simon Says Stamp
is offering a $20 gift voucher to spend in their store!!
In business since 2002, Simon Says Stamp is striving to offer you the best selection of Rubber Stamps, Altered Art, Scrapbooking, Artist Trading Cards, and Paper Crafting Supplies in the world. We stock over 100,000 items in our warehouses so that we can offer you quick service and one stop shopping at a great price!
Happy customers are the heart of our business.
We work hard to find and deliver to you the latest in stamping and paper crafting supplies! Attending classes, workshops, and sales meetings around the world, our goal is to keep our product offerings fresh and current. Make us your one stop easy shop - and we'll deliver right to your door!
Featured Tipper Prize
Pizzazz Aplenty
Pizzazz Aplenty
is run by Judy Bennet, and she is offering our Featured Tipper this fabulous stack of goodies..
Pkg of 3, Victorian Lady Cameos, Turquoise, Pkg of 2, Boy & Girl Cameos, Blue/Gray, Pkg of 6, Button Stick Pins, Pkg of 6, Small Heart Stick Pins, Pkg of 20, Crystal Gem Stick Pins Red, One pkg each of: 2mm, 3mm, 4mm Olive Green flatback Pearls, One pkg each of: 3mm, 4mm Dark Chocolate flatback Pearls, One pkg each of: 3mm, 4mm Olive Green flatback Rhinestones, 5 yards Only Olive Dream String, 10 yards Brown & White Baker's Twine, 1/4" x 25-yard roll Sheer Organza Ribbon, Mint Green
One Gel Picker.
Pizzazz Aplenty began with only a bit of bling and some ribbon, but in the last few months, we've added so much more... from cardstock to cello bags, as well as charms, stick pins, brads, buttons, cords, twines, laces, and over 20 colors in flatback pearls and rhinestones. The newest additions are teardrop pearls, button stick pins, leaf pins, heart pins, resin cameos and flowers!
Please stop by for a look at our store: Pizzazz Aplenty
Prize offered to 1 lucky winner is :

3
packs of die cuts.
Crimson Cloud is a mother/daughter venture - a way to indulge our joint passion of cardmaking and crafting. We only sell products that we have tried, tested and love using. We have developed our own exclusive range of dies cuts, digital stamps, svg files and "Make Your Own Card" kits which reflect our styles of card making - and hopefully yours too!"
Now here are the teams tips and creations with the 'T' items!
Tilda, Turquoise, Tattered Angels, Tiara, True Friend, Tag
Tip: Sometimes picking a card technique first will inspire the theme of the card later

Tent Card Technique

(Teddy Bear, Tulips, "Tip-Toeing")
Tissue Paper Technique and Tealight Cake!

Tip: Do you buy kits and are dissatisfied with the contents? Make your own when you have a long stretch of time. Then when you are short on crafting time, but longing to do SOMETHING, pull out one (or two) of your homemade kits and craft away.

Tip - Try using your TH distress re-inkers on a tile for water colouring,

I use an old glass bar from an old fridge, cleaned of course!
T for Tangerine, Teal, Tim Holtz distress inks, Towing (butterfly) Two strips of Ribbon
Toddler Tearing tag, with toys, trinkets, teddy charm and tutu and Tim Holtz (dp)

Tip:

Copic E19 is great for slight auburn streaks in hair color (very thin lines)
color your pearl stickers with copic markers any color you need ( and only have to buy white)
Please visit the DT's blog's for more info on their projects
and leave them a comment, DT Members love comments too...
...and really appreciate them :)
***********************************************
Don't forget to follow our rules;
~ Link to post and not just your blog ~
~ No backlinking ~
~ Max 3 entries each ~
~ Add 'TIP' after your name to indicate you also have a tip in your blog post ~
***********************************************
Challenge closes at 5pm UK time Monday the 5th of July 2011